Posted On September 23, 2016 by mark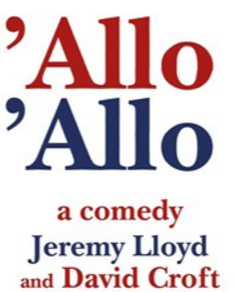 'Listen very carefully, I shall say this only once….'  The Bovey Tracey Players are delighted to present the popular wartime comedy 'Allo 'Allo, by Jeremy Lloyd and David Croft.  This uproarious comedy is based on the hugely successful British television series, and has a special place in British Comedy history. It relates the adventures of a hapless cafe owner, René, in occupied France, his wife, the tone deaf Edith, and two waitresses Yvette and Mimi, who by his own admission he enjoys being nice to!
Hiding stolen paintings for the Germans and British airmen for the resistance add to the confusion and chaos that ensues.  The cast includes all the favourite characters including the austere Herr Flick and his side-kick Helga, Michelle of the Resistance, bungling Sergeant Crabtree, master of disguise Monsieur Leclerc, lady-loving Captain Bertorelli, Lieutenant Gruber and his little tank, the ever youthful Colonel Von Strohm and the new General Von Schmelling, who all the other officers want to impress!
As you see, all the usual suspects and characters are there, but…. Will the long distance duck take off? Will Crabtree ever learn to speak French? Will the British airmen leave René's café? Will Edith ever sing in tune?