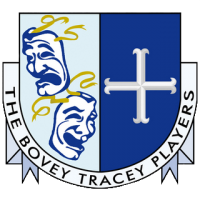 The Bovey Tracey Players exists to provide opportunities for its members to explore all aspects of the Theatrical Arts and acquire the related skills through the production, reading and viewing of plays and other dramatic performances.  In order to further this aim, the Association shall be non-party political and non-sectarian.
A brief history of the Bovey Tracey Players
Paralleling the history of drama itself, where from the late 10th century Mystery and Miracle plays were performed in churches and city streets throughout the country, The Bovey Tracey Players can trace its inception to the church. On Good Friday, 9th April 1971, in the town's parish church of St. Peter, St. Paul and St. Thomas of Canterbury, a small group of actors presented In Three Days, a simple play for Passiontide and Easter. The cast included Arthur Mann and local potter Jeremy Leach. That October a constitution was drawn up and The Bovey Tracey Players officially formed.
In December, founder member Joan Bailey directed A Miracle Play, the society's first Nativity. Audiences were thrilled to see a star projected high on the church's magnificent barrel roof, while Benjamin Cartwright as the Archangel Gabriel made a spectacular entrance above the choir stalls. The prompt was Sheila Iley while churchwarden James Brown, the Players' Chairman, indefatigable fundraiser, and eventually its first President, stage-managed.
Gaining a growing and enthusiastic membership, the society decided to stage its first secular theatre. On 8th August, 1972 a programme of three one-act plays was put on at the Wickham Hall with admission by programme/ticket costing 15p. J. B. Priestley's whimsical The Rose and Crown, directed by Marjorie Milne included Anne Broom and Gillian Harwood in the cast; Val Nickless produced Stanley Houghton's The Dear Departed with L. du Garde Peach's comedy Waiting at the Church performed by the Women's Institute, completing the programme.
In a major step forward, that autumn The Players' staged its first three-act play. Breath of Spring, a comedy by Peter Coke was directed by Joan Bailey, with Benjamin Cartwright as The Brigadier and Audreay Harrisson, wife of retired local doctor Jack Harrisson as Lily the Maid. A hit with audiences, it encouraged the society to move forward. Costumes were begged, borrowed and made-over with funds raised by every possible means from selling scrap metal, newspaper and cardboard collected from local shops, to in-house entertainment. With room-hire and performance royalties a major outlay, raffles manned by Irene Brown helped offset expenses.
The society branched out into variety shows attracting new members in The Good Old Bad Old Days and Christmas Pie directed by Audreay Harrisson, with Sid Weekes as pianist and Geoff Wills on drums. Summer Carnival took The Players out into the community. On a borrowed tractor and trailer decorated with straw bales, a piano manned by Sid Weekes and a flagon of cider, a colourfully-costumed crowd sang its way around the town.
Autumn 1974's production was Jean Anouilh's challenging Ring Round the Moon. Directed by Elizabeth Lycett Steele, her cast included local schoolteacher Travis Billington, Michael North in the demanding role of identical twin brothers and Angela Browning, who later entered Parliament as Conservative MP for Tiverton and Honiton. Seeking more sophisticated staging and larger audiences, in spring 1978 the society moved its performance venue to the Town Hall. Storage space was rented in the bay next to the old fire station. On a night when storms threw the town into darkness, actors, in true theatrical tradition, finished the farce Rookery Nook directed by Patricia Berry, on a stage lighted by the fire brigade's two powerful searchlights.
Ready for new challenges, the society put immense energy into its first pantomime. News reached television's TSW and a camera crew and reporter arrived to film the dress rehearsal of Robin Hood directed by John Wills, with writer Patsy Wills as principal boy. Traditional or sophisticated, The Players' pantomimes have become huge successes. An Arts Lottery award funded professional input for Dracula and the Magic Lamp (1998) written by photographer Bim Bollard.
Occasionally the society stages light-hearted street theatre including a traditional Christmas Mummers' Play compiled and directed by Anne Broom. On stage, plays ranging from Chekhov and Molière to Stoppard and Ben Elton have been performed. For the ensemble of actors, technicians and administrators, each production is a fresh challenge; there is hard work, a few tears and a great deal of laughter.